MICNON 2024
Du 04/09/2024 au 06/09/2024
Université Lumière Lyon 2 - 4Bis Rue de l'Université, 69007 Lyon
---
Call for papers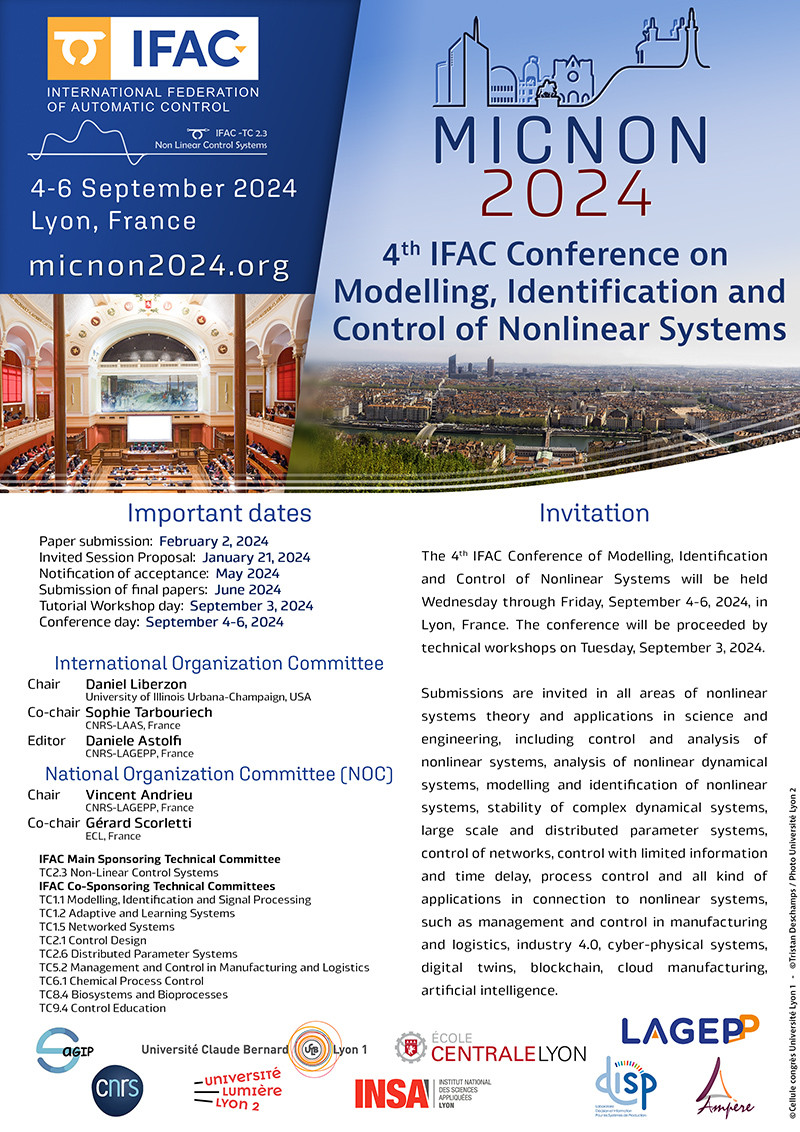 Important dates
Paper submission:
February 2, 2024
Invited Session Proposal:
January 21, 2024
Notification of acceptance:
May 2024
Submission of final papers:
June 2024
Tutorial Workshop day:
September 3, 2024
Conference day:
September 4-6, 2024
Author Information
Papers must be submitted electronically through the IFAC PaperPlaza Conference Manuscript Management System.
IFAC Papercept (Submission)
Regular Contribution
All papers must be written in English and prepared in accordance with the IFAC paper style (See IFAC Author Guide). For the purpose of review only, manuscripts may be up to eight (8) pages long in two-column format. The length of the final manuscript is limited to six (6) pages. All papers will be peer reviewed. Accepted papers will be published in the IFAC-PapersOnLine Proceedings Series.
Invited Sessions
Invited sessions consist of six contributions presenting a unifying research theme from the scope of MICNON 2021. Each invited session proposal must contain a session title, names of organizers, a summary describing the motivation and relevance of the proposed session, and a list of the six contributions including paper titles, author names, affiliations and brief descriptions. Each paper submitted to invited sessions will be peer reviewed. Upon submission the organizer will obtain an invited session code that should be distributed to contributors.
Copyright Conditions
"All publication material submitted for presentation at an IFAC-sponsored meeting (Congress, Symposium, Conference, Workshop) must be original and hence cannot be already published, nor can it be under review elsewhere. The authors take responsibility for the material that has been submitted. IFAC-sponsored conferences will abide by the highest standard of ethical behavior in the review process as explained on the Elsevier webpage (
https://www.elsevier.com/authors/journal-authors/policies-and-ethics
), and the authors will abide by the IFAC publication ethics guidelines (
https://www.ifac-control.org/events/organizers-guide/PublicationEthicsGuidelines.pdf/view
).
Accepted papers that have been presented at an IFAC meeting will be published in the proceedings of the event using the open-access IFAC-PapersOnLine series hosted on ScienceDirect (
https://sciencedirect.com
). To this end, the author(s) must grant exclusive publishing rights to IFAC under a Creative Commons license when they submit the final version of the paper. The copyright belongs to the authors, who have the right to share the paper in the same terms allowed by the end user license, and retain all patent, trademark and other intellectual property rights (including research data)."